I may have mentioned the other day that our trunk was exceptinally full when Deputy Dog stuck his big fat head in to sniff out our narcotics and thwart our drug running business. What was in there? Beads. Millions and millions of beads. Why? Because a crazy old lady sold them to me.
We went to FL to buy a car. Why FL and not MI where we live and cars are cheap? Because FL is where old people go to die, and then sell their cars for $300 to their neighbor's son. They also packrat all of their old craft supplies and decide to sell those as well, to their neighbor's son's girlfriend that
makes jewelry
.
So we went over to meet this old lady whose husband had died and thus caused her to sell the car since she wouldn't use it. Let's call her "Eleanor," which is her real name. She showed us her weird little trees that she used to make. They looked like this: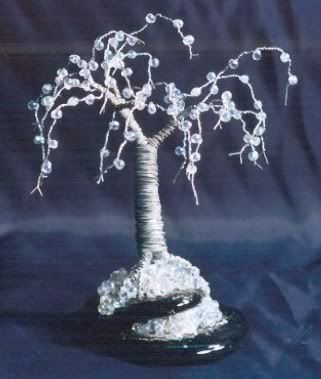 Not the kind of thing I would make, but I admit it took some skill. And supplies. And since Eleanor is the kind of old lady that I am on the fast track to becoming, she has every single pakage of craft supplies that she ever bought, even though 85% of them were unopened. Incidentally, this is why I'm not allowed to go into bead stores unless I have a specific project in mind. The kicker though, was that some of the supplies were in these large metal cases with lots of tiny drawers. I do need somewhere to store all my beads, because I'm an organizational freak and beads are tiny and plentiful.
Some haggling went on until we agreed on a (very cheap!) price for 4 metal cases and all the contents, as well as about 58 tupperware bowls filled with beads and taking up valuable cupboard space. As we were bagging up my new goods, Eleanor became wistful. "I like these ones, maybe I'll keep them. Oh these are nice, I'll make something with these." And so on until Jay's mom verbally slapped some sense into Eleanor, telling her that her arthritic hands weren't making anything else, and the beads were just gonna be thrown away when she moves into a nursing home. A little harsh, but true. The thing that really turned Eleanor around was when Jay gave her the cash. *snap* "Here, let me help you get these in bags!"
So we stowed the 4 cases and a giant duffle bag full of bead tupperwares safely in the car's trunk, to be out of mind for the remainder of the trip. Since our return, they have been sitting on the floor in the entryway, blocking the front door. Mmmm useful. I knew I had to do something with them, but they were so unorganized and so plentiful that I didn't even want to think about them. But then I remembered that a good way to get rid of supplies that I wouldn't normally use is to make cheap bulk jewelry to sell at bars for free drinks. Hmmmm if only there were some big drinking holiday coming up...
So I spent my Saturday making these:
and yes, I was able to trade them for free drinks (and cheese fries!) on St. Patty's Day. But that didn't solve the problem of the millions of remaining plastic beads in my living room. Conveniently, Jay needed a little nappy-poo today (what did I say about free drinks?) so I felt this weird motivation. I moved the coffee table and proceeded to empty out all the drawers of the fancy pants cases. Yeah, can you say daunting? I thought it was a daunting task before I started. Then it turned into this:
I'm not even done yet. But that's how I spent my day. (As always, click on the photos to make them bigger.)
ps - do you need some plastic jewelry? Any color you like, I make you something nice.